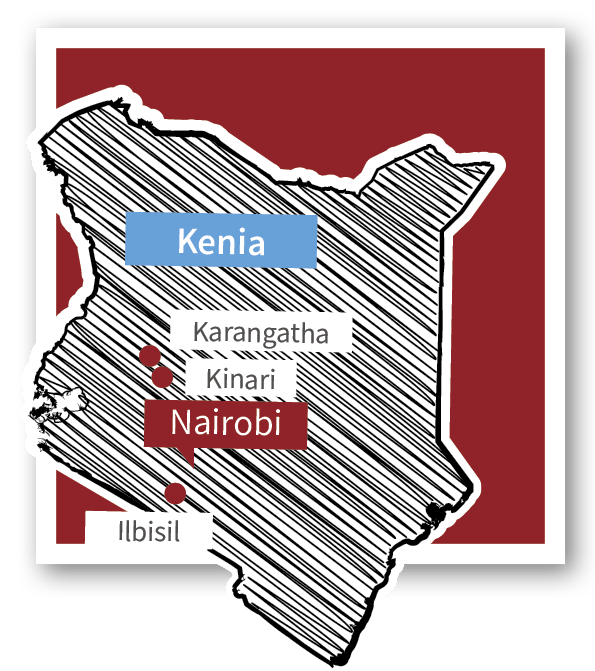 Ilbisil - Life in Kenya
Kenya's economy has grown steadily by six percent in recent years. Tourists are attracted to the impressive safaris and idyllic beaches. Coffee and tea from Kenya are being drunk all over the world.
The distress of the population
The majority of the population has remained unaffected by the economic boom. One in two Kenyans lives below the poverty line, and one in four even has to get by on less than a dollar a day. The differences between urban and rural areas have worsened. Climate change is also being felt locally: frequent droughts are exacerbating the situation. Nothing grows on the barren soil; people are malnourished and struggle to survive. Children are among the poorest sections of the population. They are often denied schooling.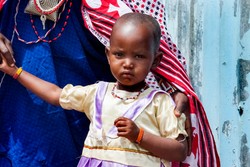 Project work
We work in Kenya with the project partner "Village Economic Empowerment". Our three development cooperation projects are in:
- Kinari (approx. 90 km north of the capital Nairobi),
- Karangatha (approx. 80 km north of Nairobi)
- and Ilbisil (approx. 120 km south of the capital Nairobi).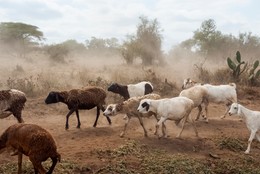 Ilbisil
Ilbisil is located in the middle of the Massai region. The region is extremely dry. For the nomadic pastoralist people of the Maasai, who live mainly from livestock, this is an ever-increasing problem. The dry fields force the Maasai to move from watering hole to watering hole with their meager cattle. Watering holes are also running out more and more. The families cannot settle down. Children only go to school irregularly. Water is life. If the animals are too lean, the people have too little to eat. If people have too little to eat, children suffer most. Malnutrition has lifelong consequences for them.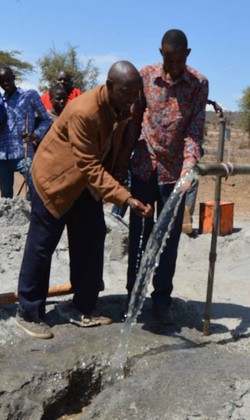 In Ilbisil, we built a well and a school. An agricultural project was also launched. The project ensures year-round access to water, food and education for the local people. Families can finally settle in one place. Their children can attend school regularly
The water is brought to the surface from a depth of 280 meters by a solar pump. The community can dispose of a part of the water independently.
The second half of the proceeds is destined for a "Drip-Drop-System". Through targeted droplet delivery from hoses, the cultivated plants are irrigated directly at the root and the yield of the soil is significantly increased. Animals get more food and new vegetables can be grown for their own use and for sale. This increases the community's income and standard of living.
In addition, goats have been distributed. The care and rearing is done jointly by the families. In this way, the community is strengthened.
Sponsorship program
We are currently taking care of 176 sponsor children (as of fall 2020). Their daily nutrition is secured, they can go to school, receive clothing and medication. All this is made possible by the ora sponsors.
We would like to help many more. Please support us!

Join us!

Fight together with us the poverty in Ilbisil in Kenya!